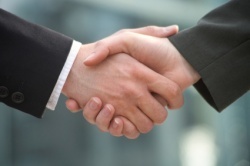 This will be a half-empty and half-full kind of post. The fall in the Pound and the FTSE this past two years has had a disproportionate affect on different sectors in the UK. Some like Banks are well down and indeed, out. Others like Pharma have done well. One other sector that has been beaten down is engineering, companies like Tomkins. Why? Well manufacturing data and worries about world trade abound.
However, this is not how foreigners see it. They see fantastic companies
like Tomkins
and
Chloride and want to buy in.
In fact merger and acquisitions in this sector are all the rage. Hopefully this will lead to a re-rating of shares and so less foreign take-over activity.
Now, this is not to say we Capitalists are against foreign take-overs per se. It's a market, they want to give shareholders money and they can then invest that elsewhere or start again with new businesses. Also the foreigners sometimes find it ain't as easy as it looks and you can overpay,
check out DP World
with their P&O ports acquisition.
But there is a market here for cheap take-outs of some of our best companies, which of course presents itself as a good opportunity for some stake building of your own in anticipation of this. After Chloride though, I am more at a loss as this is not my sector, any insight from the readership?