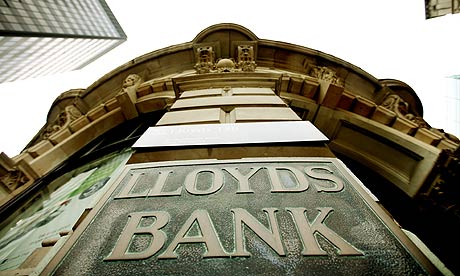 Reports abound this morning
that Alistair Darling is looking to
allow Lloyds Banking Group to escape the clutches of the Government Asset Protection Scheme. Well, after all the leaking and discussions recently this is not a great surprise.
However, Lloyds will have to raise £25 billion to do this and the Government will have to be in for over £11 billion to make this happen. Ouch. That is a lot more taxpayer money being sent out to a risky banking institution. So why do it?
Well, if Lloyds does not pass £250 billion of bad debts to the Government then the UK exposure is just with RBS and this is a much more palatable number for the treasury. However, that assumes that the debts will default at a high rate. To reach £11 billion equates to a default rate of near 5%.

However, if Lloyds is faced with the same default rate or higher then the bank won't make it. Particularly if the European Commission make it sell of profitable retail arms and keep the huge loss-making loan books of HBOS.
Oh dear,
that is the plan
. When the markets figure this out then Lloyds shares will be panned once more and instability will return to the markets.
This is a no-win scenario for the Government, but the APS is at least designed to underpin the banking system. The new plan introduces some big risks into the market just at a time of fragility. It could not be more badly timed.