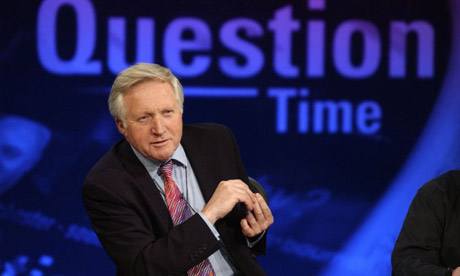 Tonight: With Justine Greening, Chuka Umunna, Caroline Lucas, David Aaronovitch and Colleen Graffy.
ARGGHHHH...Chuka is my nemesis I am not sure I can cope with his meaningless platitudes and lies. greening is very good, although is less competent in Government than she thinks. Lucas is a moonbat and Aaronovitch the silliest kind of ex-marxist on a journey to fascism journo-type.
Who is Colleen Graffy? One extra point for that before 10.45pm. I am refusing to google so I am sure it is someone off Eastenders..
It's a new season and with BQ MIA I will let him off and he can start the new rules next week.
This week points are for:
1 for each correct question from Dimby
1 (and only one between all entrants) most apt and rude comment about a fake audience member who is really a party activist/councillor
1 for Dimby tie
1 for entering the competition
3 points for for plausible comments after 11pm proving that you might actually be watching...
Good luck all, pesto at the ready for the Green onslaught...
CU's uneducated guesses:
- Fracking, it makes Lucas popular
- Barroso, EU is fun subject
- Syria, it makes Lucas popular
- Employment - 'no recovery' Chukathon