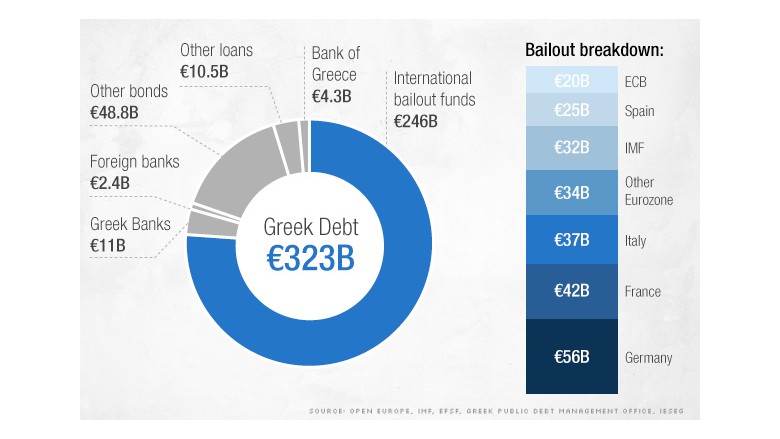 An interesting week watching what will happen in Greece. As ever, the markets move as if it will all be completed in a late-night stitch up on Thursday. All will be well in time for Saturday and the US has chipped in to say don't drop the ball and cause a crisis (irony alert - Lehman Brothers).
Meanwhile, perhaps for domestic consumption, the current Greek PM claims that all is not well and the international community are
being big meanies
-
"the obsession of some institutional representatives who insist on unreasonable solutions and are being indifferent to the democratic result of recent Greek elections"
So says Tsipras, but who knows what he really means. What we do know is that the group of international lenders are being intransigent. There is no reasonable way that Greece could ever get its public debt back in order without a large write-off. For political reasons, the Germans don't want that to set a bad example for others. Also, as much as the Greeks hate the Troika they don't want to leave the teat of the EU.
The Greek Government was elected on a populist lie, a fine tradition in the failure of Greek politics, which it cannot deliver.
So either we will get -
- Greece forced by the EU and IMF to concede to endless Austerity. With no choice Tsipras and his Government will have to whip up severe anti-foreigner nationalism to try to dissemble away from reality.
- Greece not agreeing, as Tsipras finally gets the EU cares not one jot for Democracy - a messy Grexit ensues but of course Greece defaults and in 5 years will be a much better place that it is now.
On we go, tick, tock.