The first cold war was won by the West without the need for a full on confrontation of opposing armies. Yes, sadly millions were killed in proxy sponsored wars - but the Cuban Missile Crisis apart there was little chance of actual engagement.
In the US and UK media today there is a feeling that Putin and Russia have all the cards and the West will stand around meekly with nothing to do but shout and huff. Journalists are keen to dust down 1938 accounts of appeasement of Hitler and so forth.
Of course there is no hope of the West militarily intervening in Ukraine but what we do have, as in the first cold war, is the power of business.
Russia's budget requires a high oil price, worse it is reliant on one or two state giants to provide it with funds. The US does not need Russian Gas or Oil and neither does the UK - even Germany has reduced its reliance in recent years.
Worse for Russia, look at the rouble - the currencies fall at the end of last week handily mirrors the economic prospects for Russia. Crimea as a nationalist use and its use as the base of the Black Sea Fleet and home to holiday Dacha's. Beyond that it is of little economic use.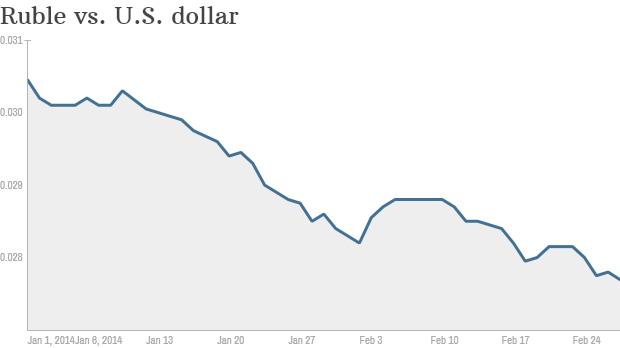 The idea that threats about G8 status are effete and weak are wide of the mark. Russia's corrupt and disjointed economy could ill-afford to be cut off from world markets. Putin will not be popular with his fellow oligarchs if their businesses face severe sanctions. Russia is no economic superpower and cannot win a victory except by militarily bullying the weak neighbours on its borders.