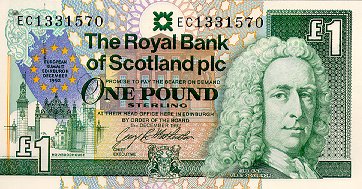 With the momentum strongly with the Yes campaign, Scotland could be hurtling towards independence. Certainly the passions North of the Border have been aroused and the vote may well get close to 80% turnout. On that basis it would seem more likely that Yes might just squeak a win.
In trying to defend the status quo, the political party leaders at Westminster have been determined to say that under no circumstances will there be a full currency Union. It has been a great tool for the campaign, as it focus' on the heads and not the hearts. The Heart felt vote will always be for an Independent nation, as its is more aspirational than more of the same.
However, why, as a person living in Southern England, do we care if there is a Currency Union. Scotland demands a seat at the Bank of England as its price. Fine, let is have one - after all the MPC is a vote of 12, Scotland having one is about right in terms of economic contribution. Scotland will not dictate the votes on interest rates.
Scotland too would have to sign up to strictures around public spending, Tory ones in times of a Tory Government and Labour ones in times of a Labour Government. That means they would have limited impact on their macro spending.
So in effect, nothing would really change economically for the Scots or have any real impact on the UK as it remained.
Currency Union does not really hold any big bad macro effects, except if Scotland went off the rails and tried to print its own money etc - something that even Greece could not do. Plus over time, the Scots would issue their own debt and so would have the markets act directly to help persuade a Scots Government of the nature of debt and spending.
As such, I think all the Westminster MP's are lying and in the end if the vote is Yes then the likelihood is there will be a Currency Union - not having one is unnecessarily spiteful and also probably against the terms of the treaty signed when the referendum was first agreed to.
Without a Currency Union the Scots economy faces a very uncertain and bleak future, that much is true.