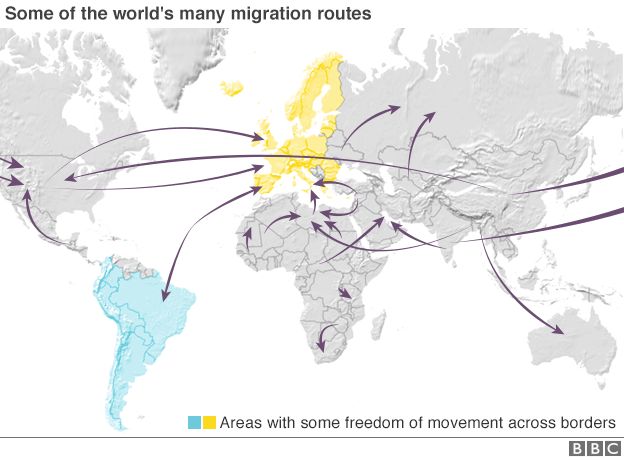 The BBC is today have
a nice little right-on orgasm
as it interviews a UN commissioner on refugees and their beloved heroine Angeline Jolie-Pitt (she's attractive! she had cancer! she is a luvvie!).
There will, as ever, be little to see here. The refugee crisis is building across the world. Statistically, there has been a drop in war fatalities over the past two years across the world.
There are less hot wars now than in the historic past - although of course more trouble in the Middle East which is closer to Europe and more accessible.
There are also ongoing issues across Africa and Asia, whilst Europe, South America, North America, North Asia and Australia remain almost entirely at peace.
Yet war and escaping from it are blamed as the cause of migration. The simpler fact is the huge population growth and limited economic progress (I mean this on a good way) means there are literally far more people able to try to move for a better life.
The major world population growth areas left are Africa and South Asia. In Africa Nigeria takes a big lead and in Asia it is Pakistan and Bangladesh. Benighted countries these, unsurprisingly people will want to leave for something better as they mature.
This is the true driver of migration. To me, our futureselves will look back in sneeringly at the lefty approach of today; allowing mas migration to destabilise strong societies with the unwanted from failing societies. You can argue this too happened in the opening up of the US, but the scale is different - plus there was little to destabilise in the US and no one technically there at all beyond the Indians.
Instead in the future we will see a much more Australian approach to life, with borders controlled more effectively to stop ever increasing numbers of migrants from over-running society; again, this is what happened in the Dark Ages too so it is not without precedent in history, far from it.
It is not about blaming migrants themselves, who would not want a better future. However, society in Europe will be able to cope with a few millions of migrants a year at most; the current 10's of millions will not be sustainable, no matter how much UN and fellow-travellers would like it to be.