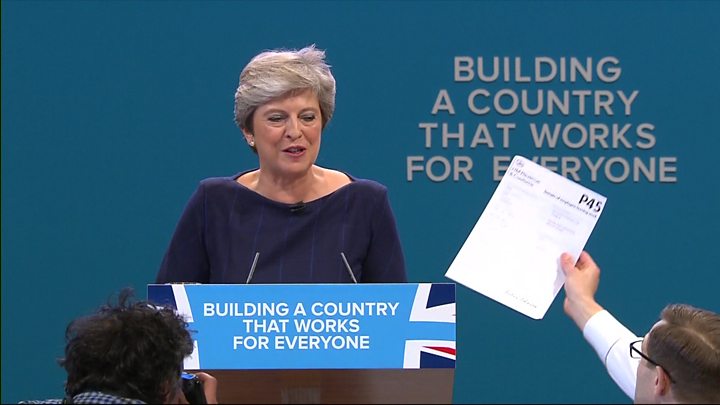 Poor Theresa May, now defined as a female personification of Gordon Brown, even down to the policies.
During her speech today the set she was speaking in front of fell to pieces, a nerdy protestor handed her a P45 and she had a cough and cold so she could barely speak.
Truly, this is Brownian motion of the fist order!
To make matters worse, he big non-Brexit ideas were both neither capitalist nor conservative. She wants more council house building - why? Because this has been such a success? Why not just relax planning laws? Why not set an overall target and offer incentives to get there? Why no mention of the plan to reduce immigration and therefore bring future balance to supply and demand in housing?
I can't even begin with the craziness of capping energy prices and will wait for Nick Drew of this parish to respond fully in due course; in short, first the Government rig the markets to reduce supply of energy to increase prices for consumers and now they want to rig the prices companies can charge. This can only lead to dis-investment and corporate collapses in the medium term.
On a human level I am left having some sympathy for Mrs May; a terrible hand of cards is unplayable and you lose the game whatever you do, she had the worst hand of cards given to a Prime Minister in my lifetime so no wonder she is struggling, it is a
Kobyashi Maru
scenario.
However, there is a greater need for the Country to get on with Brexit and then seek new leadership or else PM Corbyn it will be at the next election.