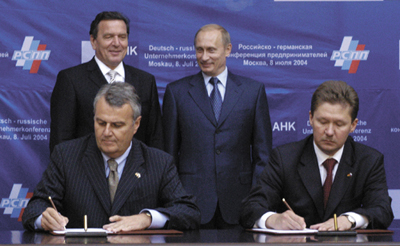 The Telegraph have an excellent story out today on the Gazprom-Germany-EU shenanigans. It is well worth reading and here is
a link to the full story on a non-paywall site
.
I won't rehearse the whole article because it is very clear. The Germans have been happy to stiff Eastern Europe in complicity with the EU. Now that the whole story is out (which must be some miracle for the EU and I feel for the team who pressed publish on this), the EU are going to have to bury it or else end up with 30% income sanctions on Gazprom and State Aid charges against Germany.
The piece to add to it is some people context.
For a long time Germany has been well in with Gazprom. This has been arranged by Gerhard Schroder, the ex-Chancellor, who has long been in Putin's arc and is indeed now Chairman of Rosneft (replacing Putin late last year, natch). The picture here is from 2005, working closely with all the worst of the Putin Gang.
He is indeed a founder member really and today is in the inner cabal, always defending Putin. Angela Merkel has called him out once, saying she does not approve of what he is doing. But the reality is that he has done these sweetheart deals for Germany who look to have gladly lapped them up. Of course, readers here will know of the crazy "EnergieWende" policies in Germany which have left the Country desperate for Russian (low-carbon) gas.
As much as there is loathing in the UK for Tony Blair, he has not actually represented state actors that have hostile intentions. Yes he joined a few Bank boards - but even here Schroder has managed to be an Managing Director of Rothschilds to match. It is quite incredible really what has happened politically.
Of course, there are real world impacts in addition to the economic splintering of the EU that this has been creating, see just today where Germany refuse to join with US/France/UK in considering what action to take against Syria and their Russian supporters. Whilst there are plenty of solid reasons to avoid getting involved in Syria, the German-Russian gas relationship will always now allow for a lack of credibility to German political positions when we know how compromised they are with their Russian engagements.