While we are looking at historical parallels, not of anything in particular, of course....
1856 map showing slave states (gray), free states (pink), and territories (green) in the United States, with the Kansas Territory in center (white)
Charles Sumner was a single issue US politician. A populist. He believed in upsetting the status quo. And was prepared to do almost anything to achieve that aim. He hoped from political party to political party as the ones he liked to associate with rose and then fell into decline. He eventually became a Republican.
He was a man who preached about a far better future. One where the current constraints of the existing laws would not apply.
When accused of Utopianism, he replied "The Utopias of one age have been the realities of the next."
He was a true believer, not much admired by his fellow politicians as he was too radical and too extremist, and far too rude and not deferential enough to his fellows. Something that would cause him problems in the Senate.
Preston Brooks was establishment. A Democrat. A lawyer. Who also owned rather a lot of land. He strongly believed in the status quo. And despised any attempt, by anyone, to change any of the existing structures and laws that kept society as it was. He did not want change, of any sort.
Establishment versus populist.
This was the 1850s. And the establishment was all for keeping slaves as slaves. While the populists wanted them freed.
One of the significant events of the 1850s was the introduction of the state of Kansas into the Union. And whether it would be a slaver state or a free state. There was no more important or divisive debate in the country.
Sumner, the radical, made a very long speech about the violence then going on in Kansas.
The speech lasted two days, long even for the 1850s.
What got him into the most trouble was this bit.
He blasted the "murderous robbers from Missouri," calling them "hirelings, picked from the drunken spew and vomit of an uneasy civilization."
Part of this oratory was a bitter, personal tirade against South Carolina's Senator Andrew Butler.
Sumner declared Butler an imbecile and,
Mocking the South Carolina senator's stance as a man of chivalry, Sumner charged him with taking,
"a mistress . . . who, though ugly to others, is always lovely to him; though polluted in the sight of the world, is chaste in his sight—I mean," added Sumner, "the harlot, Slavery."
The use of harlot was deliberate. Northern abolitionists liked to use sexual imagery in their language. To imply slaveholders only wanted slaves in order to have sex with them. A massive insult to Southern aristocracy.
During the speech, Stephen Douglas, Democrat nominee for President, who lost to Abraham Lincoln a short while later, leaned over to a colleague and said, "that damn fool will get himself killed by some other damn fool."
Preston Brooks was a distant relative of Andrew Butler. And he took great exception to the wilfully inflammatory descriptions and so,
Two days after the end of Sumner's speech, Brooks entered the Senate chamber where Sumner was working at his desk. He flatly told Sumner, "You've libelled my state and slandered my white-haired old relative, Senator Butler, and I've come to punish you for it." Brooks proceeded to strike Sumner over the head repeatedly with a gold-tipped cane. The cane shattered as Brooks rained blow after blow on the hapless Sumner, but Brooks could not be stopped. Only after being physically restrained by others did Brooks end the pummelling.
A House committee investigated the incident and proposed expelling Brooks. "This they can't do," he predicted to his brother. "It requires two thirds to do it and they can't get a half. Every southern man sustains me."
Brooks was correct in assuming the attitude in the south and the inability of Congress to formally remove him. Most southern newspapers praised Brooks's action.
Brooks resigned his seat. And was immediately re-elected by his district. South Carolina held events in his honour. From all over the South he was sent replacement canes. Some with lists of other Senators he might like to hit.
Sumner was badly injured and could not remain in the Senate. His district voted in no replacement and kept the seat open for his return.
Overnight, both men became heroes in their respective regions.
To my mind, it was the sending of the canes, even more than the beating in the chamber, that shows the terrible anger that had built up on both sides. A man had been almost beaten to death in the very body of the legislature, and people felt so angry and betrayed by that man's views, that was deciding the future of their union, that a pummelling was seen as good justice for an opponent of their beliefs.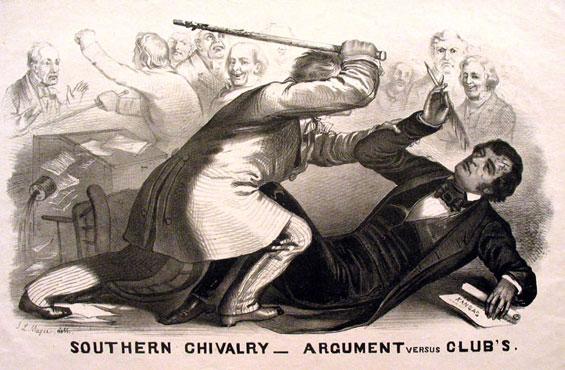 Brooks died very shortly. Of an illness. Sumner recovered and carried on his abolitionist work. Becoming a strong critic of Abraham Lincoln who he believed wasn't abolitionist enough.
The Kansas-Nebraska act showed neither side, slavery or anti-slavery commanded enough of a majority to over come the other. The impasse only caused greater tensions. With government unable to decide the people took the matter into their own hands and Kansas was flooded with outsiders, intent on makig the state their prefered slave or slave-free state.
Violence. Vote rigging. Murder. Arson and mob rule became widespread.
The New York Tribune labeled it 'Bleeding Kansas.'
6 years after the incident with Congress still split and no possible solution to the slavery/anti-slavery positions that divided the nation could be found, Lincoln, was elected. He promised he would not change anything. Would not free any slave or alter the existing laws on property or elections of the country. The South didn't believe him. And civil war broke out.
Some 50,000 civilians and 700,000 soldiers died in the 4 years of conflict.