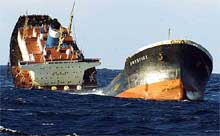 This report
suggests that commercial consumers of fuel are already feeling the pinch from the strike at Grangemouth. With industry on this scale a single closure can always cause huge problems down the supply chain.
After 2000, the Government has built up some fuel stocks to try to help the country in a time of emergency and these may well be called upon. However, a rush for petrol by concerned consumers could well start a panic and in fact cause a petrol shortage of sorts.
This time the government could not blame the haulage industry, which paid a heavy price after the last fuel protests as the government stood back and let European operators hammer our domestic ones.
Instead no doubt the Scots in our cabinet will blame the Scots in their government's cabinet. A political solution will have to be found.
A longer-term key issue is at what price point oil causes a recession. Now the real price of oil is at $120, way above historic averages, we are at a time when a tipping point may be reached.
The Government has bailed out the banks, bailed out the 10p tax rate 'victims'...
when will the bail out be for the motorists?