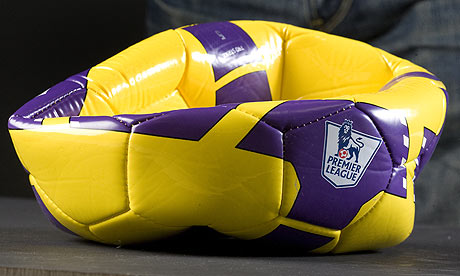 In these past few months, the debt position of the UK has been a much discussed subject. But of course the UK national debt is but a part of the overall debt structure of the country which includes all the private company debt as well.
During the recession some companies have been doing better than others in managing through these difficult times.
One outlier appears in the press today
with its results announcement
. This is Manchester United, the most successful UK football club of recent years.
Man U has reported a profit today of £41 million, but this alone is less than half of the money they sold Cristiano Ronaldo to Real madrid for. On a like for like basis, their loss is actually £31 million, compared to £13 million last year.
Why is this? Well turnover is up so perhaps they have been investing in the club infrastrucutre? But no, the extension to Old Trafford has been finished for a couple of years.
The real story is one of leverage finance. The owners of Man U bought the club borrowed a huge sum of money and then mortgaged the club to pay back their loan. As such they have put only a sliver of equity into the business. Now Man U is sitting on at least £600 million of debt, some of it apparently at rates of up to 14.25%; equivalent to borrwing on a credit card.
What is staggering really is that man U have been in the Champions League final twice in the past 2 years and won the Premier League. They can be no more successful in any meaningful way. Therefore with alll the prize money collectedrecently, their revenues are not going to shoot up skyward from here. Indeed a bad year in the Cup (go Leeds!) and the Champions League and their revenue will fall. Plus they do not have a Cristiano Ronaldo to sell every year.
Now the club are going to try and
re-finance by selling a bond
that will allow them to re-pay the most expensive debt (with a ncie fee for early repayment no doubt). Good money for the banks involved too.
This is sensible, but having to do this shows how far the clubs finances have been stretched by the use of excess leverage finance by its owners. The need for the bond issue is actually quite urgent to fix the finances; Somehow I doubt Man U will be paying any £80 million transfer fees itself in the near future.
Even with a new interest rate at about half of the current one, the club will still be making debt payments of about £30+ million a year - over 10% of its revenues (which are themselves likely to fall).