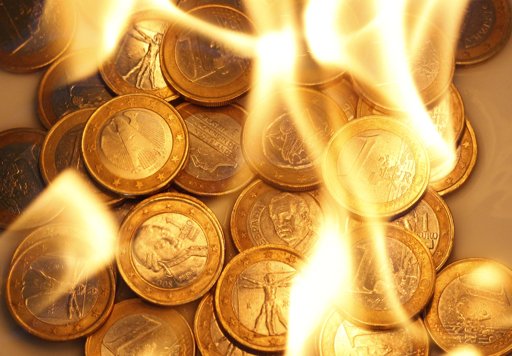 For many years, indeed, since before the thing even came into existence, lots of us have decried the possibility that the euro might work. The "Great Moderation" (i.e. monetary cyanide) of 2001-2007 hid the effects, but this latest recession has brought home the truth.
The Gordon Brown answer to the financial crisis in 2008 was to move the Bank debt to the public sector and this has hastened the end of the Euro as many for many Euroland countries, notably Ireland, this exposed the level of debts as far to high for the Country to ever pay off. Look at Greece today, 24% of GDP going on debt repayment; that is GDP not Government spending - and this is with the bail-out.
Unsustainable
. With Germany's Mr Wulf and others decrying throwing good money after bad then this is the endgame. It may take another few months, but I am convinced the Euro won't see the Olympics. Germany is not going to bale it out and the current situation will end in a disastrous crisis.
So what will happen:
1. The German, French and UK banks are going to go bust as they hold much of the foreign debt of the PIIGS. So I guess we need to find a Eurobanks short ETF - difficult to find one as many are run by Duetsche Bank which will be one of the first to go down in the crunch, but perhaps Germany will save its own banks so this one will get paid?
2. Gold - not a hard choice to be long gold, paper or physical. With currencies in a mess Gold will go up...however only after a mass liquidation event has pushed the price right down, possibly below $1000. This is why short positions are my top pick. In 2008 Gold hit $600 briefly (that is when I bought it, thought I was clever selling at $900)
3. Currencies, clearly the Euro will be suspended, so no positions here can be predicted. CHF is very over-bought already, so I where do we go, Long Norwegian Krona. There will be a flight to safety to the dollar too so that will be a short-term trade. The British Pound will go down with our banks, sadly.
4. Commodities - Again, a crash will signal a global downturn so I expect a big sell-off, but a re-bound here will be quicker as the rest of world adjusts to Europe and the USA's reduced place in the world and our growing population globally sucks up more demand - still that is a 1 to 2 year view and will be no good in the short term.
5. Cash and out - I am unsure about the idea of watching from the sidelines. There will be no QE next time to boost the economy (if so, then hyperinflation and total wipeout unless all your money is abroad which unless there are some Hedgies and global wealthy class people reading this is unlikely). With the UK pound collapsing real value cash could lose 25% easily. It may be more prudent to be diversified elsewhere.
6. Next steps. Clearly things are going to get tough, one thing even Missus Cityunslicker has picked up on maybe the chance to buy some very cheap PIIGS holiday property as their currencies get whacked. At least we can drive there if we can't afford flights anymore...
OK, so what about that as a strategy - any other ideas? What are you going to do?