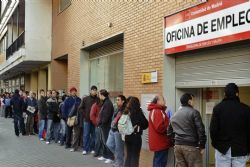 Because it is not a very pretty site today.
In fact it is at nearly 60% for under 25's!
As much as we think a potential 2017 UK referendum on Europe is a long time away, it maybe much further than the average man on the street, or even Ed Milliband thinks.
A country like Spain should not have to suffer with such massive levels of social misery. Spain remember did not even stoke up a banking crisis or a have a crazed government borrowing from every body's future.
Spain was a victim of the political decision to join the euro currency. The euro had low interest rates and this over-heated the Spanish economy to epic proportions, causing a huge property bubble which has now brought disaster to the country.
Yet for now, as BQ noted yesterday re Greece, the people are not clamouring for a Euro exit; perhaps clinging to nurse for fear of something worse.
But worse is to come. Spain is in its second recession and won't escape that until next year. Losing jobs at a rate of 2000 a day, that is another half a million people out of work. And in today's fast moving world, having no skills and not keeping up with developments will take huge chunks off your potential earning power.
It is only 2013, the Euro crisis has received a hefty kick down the road last year and people have quickly forgotten about the dreadful underlying macro-economic disaster that is baked into the Euro project.
It may well end up that all this 2017 focus becomes entirely redundant and not just because the Tories probably won't be in Government....