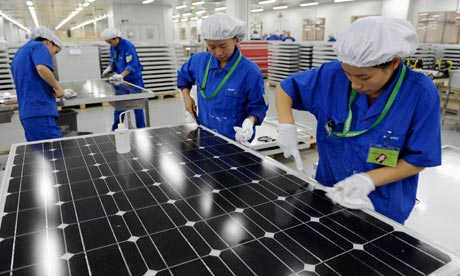 I can't help but l
ove the story about China dumping solar panels
. It is so full of contradictions that it is hard to know where to start.
- Firstly, China has hugely over-produced the solar panels and has little internal demand. the panels are produced by State Owned Enterprises and this is a good example, as mentioned by Ryan in the comments of Monday's China post, of the mis-allocation of resources in China that will lead them to a bust.
- Secondly, many European industry companies welcome the dumping! Why you ask? Well they have had their precious subsidies turned off in Germany and elsewhere so now their business model is broken. One element saving that was that the cheapness of Chinese supply means that even without subsidies the reduced cost of panels just might enable them to have a profitable business model.
- Thirdly, European producers of panels clearly hate the dumping as they cannot compete with Chinese suppliers. However, they can't compete without subsidies anyway. Much like the windfarm industry there was due to be big consolidation in any event. So creating a protectionist environment may help to save the industry, but to what end - I have heard this story before and know how it ends..
How the EU can justify starting a trade war over this is hilarious when the underlying industry is in such a mess due to the distortions in such a regulated and subsidised market. One for the Greenies and Lefties to shout about for a while...