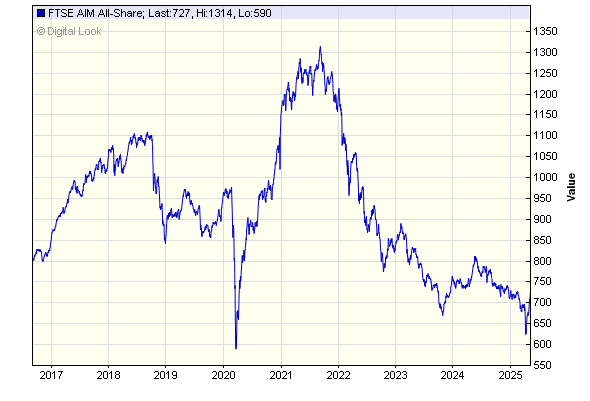 Back in the early 2000's there was a really fun and rewarding game to be played by investing in the AIM stock exchange. Small companies would list and either do well or fail. By getting in early plenty of investors could make or lose small fortunes. Thanks to the financial bubble and a willing list of foreign large companies ready to list (many of them in oil and gas or mining, with even more leverage built into their own business models), there was a lot of money to be made.
Then came 2008 and the party was well and truly over. AIM lost 75% of its overall value, compared to a FTSE100 down 40%. The flight from high risk companies was massive. if you timed it right there was a nice bounce through 2009-11 in which it was possible to recover losses or make even more.
However, the number of companies listing has declined and the days of large oil and gas explorers choosing AIM is over. A few make it and don't last long, like Bridge Energy, tipped here last year, as they are taken over by better funded competitors.
AIM has really suffered from the lack of capital available from banks for new businesses. It used to have a nice steady flow. Now there is none. So with it the chances of success fall and the prices of many AIM shares languish far below their pre-crisis levels, even as the FTSE100 is back to where it started.
Last year saw a decent-ish recovery, but risk stocks are still not popular. Despite this, the Government has made it possible to put AIM share's in an ISA. They could not have timed that worse really, just as the mania is over and the index is suffering.
It feels hard to ever envisage a big recovery too with more downsides ahead. ASOS plc is a huge constituent at £5 billion valuation. If ASOS pls moves to the main index and FTSE100 then there is a big wipe-down of valuation to AIM. GKP is in a similar position, albeit smaller and is close to moving to the main index.
Longer-term though, illiquidity is the real issue. In an age of high-frequency trading and even small time traders going short an illiquid AIM stock can easily be manipulated to create sharp changes in share price. This volatility and unforgiving exposure has resulted in AIM companies perhaps being more fairly valued, but it means the upside is always vulnerable - making a buy and hold strategy pointless.
All this is a shame, as AIM is great innovation admired across the world (the US regulators hate it, a sure sign of envy) to get money into capital markets. These days it is crowded out by Private Equity and Sovereign Wealth Funds - which is a shame as these are hardly engines of wider wealth creation for the general populace.