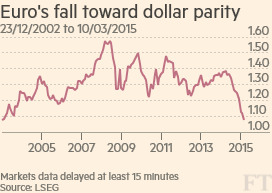 So some years after the Uk and US did QE, the Eurozone has tried the same. And to no ones surprise it has had the same effect.
Along with the currency crisis, the launch of QE has seen the Euro plummet in value versus the dollar. To the point at which is is not below 1.08 to the dollar and so veyr near to parity - with the direction of travel suggesting that parity maybe reached. With the Pound hitting 1.40 to the Euro, my summer holiday to France is looking that bit cheaper too.
In the main, this is good news for Europe, a lower currency will help Europe be more competitive against Asian and American economies and help it climb out of its long slump.
Also QE has pushed down bond rates, even for Greece, averting a return of the Debt crisis of 2011, for now.
However, there are dark clouds, Germany benefits the most as it exports the most - A D-Mark would surely have parity with a Pound Sterling by now. Thus the Southern European nations cannot export internally in the Eurozone at good rates and this is a big challenge to the Eurozone periphery.
Also, it suggests the long-term 'austerity' (also known as sanity and being able to sack people for underperforming) is unlikely to be followed through. Of course too, if you are a saver in Europe then this trend is not your friend.
Overall though, the best thing to
say is its about time...