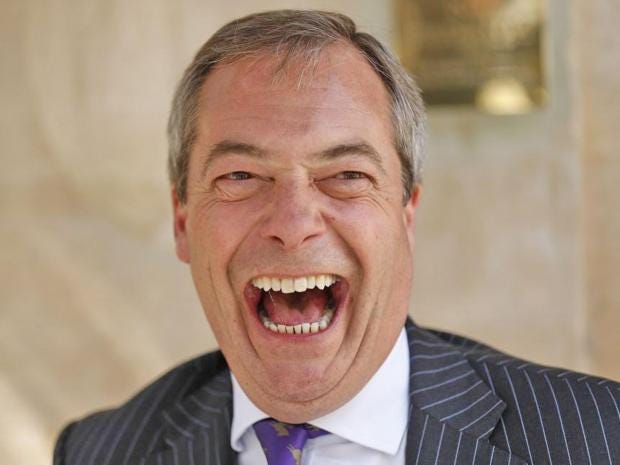 Do you get why?
You see, today, Mr Farage has pulled a complete blinder. Sat around for months on end he has witnessed the remain-led London media-political complex world banging on and on about a second referendum.
Also, defining leave voters as evil, thick, ignorant racists (well, that is the before the watershed version). Hating the world and wishing they could wind the clock back to happier, Cameron-Blair times. Listening to endless Alibhai Brown on screech-repeat.
But also, rather awkwardly in retrospect, declaring Nigel Farage as the devil incarnate and Nazi etc. etc.
And his response; to agree with them. We should have a second referendum.
Of Course!
Now the dilemma, to agree with ignorant, thick, devil incarnate Nazi or to oppose him. To stand against everything he is as any true Hate not Hope believer simply has to do.
Which today, now means, errr....to argue against a 2nd referendum. Worse, once you consider for about, oh say 9 seconds, what on earth the question on the ballot would actually be given where we are...you realise this is a terrible idea and complete non-starter. Pity to have been pushing it so hard for 18 months then - but can you be seen to agree with Farage?
No, now the only righteous choice is to continue disagreeing with Nigel and declare there is no necessity or capability to hold a second referendum. Mrs May can lead us best to the hoped for remain holy land of leaving the EU in name only.
So, for all his many faults, Mr Farage remains quite capable of showing up time after time how thick and ignorant the metropolitan remain cheerleaders really are.