There was once a right wing party that did rather well in the polls. Coming from nowhere, they managed to do very well in a series of local elections. So well, that the usual labor-conservative parties took real fright at this new upstart's influence. And both began pursuing an agenda to contain the new populist party. Rather than on tackling the causes of that populism.
The leader of this new right of centre party was a very charismatic leader. Good speaker. Good showman. He had taken over as leader from a very ineffective bunch who had been peddling their various grievances for years. Immigration. Foreign influences. Bankers. Bureaucrats.
The new guy turfed the old dullards out and went on a rabble rousing tour of the country. Drumming up support with just a few, simple messages.
The nation had been through a massive financial crash. Some had lost much. Many had lost some. And austerity had been dragging on and on. Cuts to all manner of public services had made everyone poorer than they had been. And prospects were not looking good.
The existing political parties were balanced against each other. A hard left communist party had taken hold on the left. Against a more central, one-nation, liberal-social-democratic-middle-grounders, on the other. The moderate left was losing to the far left. The moderate right, moved too far to the soggy-middle, and allowed a large area on its right flank for another party to develop.
No one side could gain a comprehensive majority large enough to enact any even vaguely controversial legislation. Any that was tried was challenged through the courts by special interest groups and rich financiers.
Protests were everywhere. All the time. About anything at all. Newspapers and media took sides and banged their supporters drums loudly. The European community looked on in bafflement, despair, and with more than a little fear. They had populists of their own to contend with.
When the leader of the country asked the Europeans for help and assistance, amending some binding laws, to see off the Our Country First group, they met with little sympathy and even less assistance.
Inevitably, the centre grouping fell from power in yet another election that was as inconclusive as any that had gone on before. The far left made a lot of progress at some expense of the far right. The middle grouping had even less support than before.
A sizeable number of Conservatives supported moving more to the right. Embracing some of the populists aims. At the same time there was a limited resurgence of Liberal parties.
Both far left and far right support was declining. People were becoming tired of constant protest and disruption,. Strikes and pickets and marches. The language of politics had become one of intolerance and aggression.
The weak centre party limped on, and for a time no one was really in charge.
Parliament allowed a very dangerous precedent, by overruling convention and procedure, and issuing their own, enourmously powerful, unchangeable, undemocratic, decrees.
This gave a huge and unrepresentative amount of power, to just a very few key individuals.
Eventually the leading industrialists, bankers and business leaders said they just wanted certainty. They had long been trying to keep the bad for business far right or far left out. Now they just wanted an end to it all. Their inability to make decisions, due to the volatile politics, was having real, and severe, economic impacts. They put aside differences and demanded some stability. From wherever it might come.
In a by-election, the populist party put on a massive show. It was an area they expected to do well. But recently they had been losing vote share. Falling quite rapidly in the polls, to the new, more right of centre, minority government.
They were determined to throw everything into the effort in an attempt to show they were still a major player. Still a significant force, and actually rising in popularity.
They spent so much money, that their treasurer was beside himself. Almost suffering a breakdown with still weeks to go before voting.
The party was bankrupt, twice over. And yet it was still holding large arena events and had aircraft flying banners overhead. Full on rallies of enthusiastic supporters and lots of paid for media coverage. The treasurer and many senior party figures were seriously worried that this stunt, rather than propelling them into mainstream politics, would mean their extinction. They had gone from high percentage of votes to almost none, many times before.
In the event, the party did only a bit better than they had done previously. It took skillful use of the media and a selective interpretation of the results to give the impression that they had done much better, than they actually had. This didn't help the nerves of the parties financial people.
The leader tried to reassure them all would be well again. The election was very near. The gamble on the biggest prize of all, was only weeks away.
They were unconvinced.
So in the end Hitler simply told all his team to keep spending. Not to let up. The illusion of wealth, strength and support was just as powerful as actual strength, wealth and support.
He told them the obvious truth of Do Or Die politics. Explained the one chance strategy in the simplest of terms.
"Keep spending. Spend even more! Because if we lose, then it won't matter. And if we win, then it won't matter."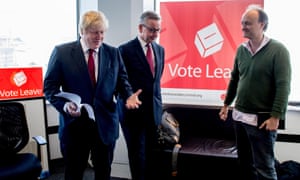 * Hitler had an enourmous fight with his missus right before the 1932 election. Eva Braun attempted suicide. His dealings with women had led to suicides of his niece and would of Unity Mitford. The old dog had a women problem.
*The German Conservatives tried to deal with Gregor Strasser, a Nazi. He was to have taken over from Hitler. Strasser was a sort of Gove figure. He could be in either, or all camps, simultaneously.
Strasser said of Johnson, Hitler, "He is a congenital liar."
He wrote of Hitler's chief strategist and spinner, Goebbels, as being a clubfoot.
"And I tell you..he..is the worst of them all. This is Satan in human form."
*Strasser was killed during the purge of 1934. Shot by the SA and left to bleed to death in a cell.
* The Nazis lost votes in November 1932, overall. 34 seats lost. The violence had become endemic. But the politicians were convinced that the Nazis had that much popular support that they must be included in any government. They hoped they could be controlled. In 1933 the Nazis gained a huge new number of seats. 192. But still a long way short of a majority. It was Corbyn type of win. And probably their high water mark, if events hadn't taken them further.
The 1933 elections were the last multi-party election in Germany. There would not be one again for 57 years.
*Why did you morph from Farage to Johnson in this narrative? I was going for a cabaret end scene vibe.
https://www.youtube.com/watch?v=tzBTqLy7gkY
* Am I saying Johnson/Farage have Nazi/Facist, tendencies and methods? NO.
*Was the rise of the Nazis hugely accelerated and assisted by the infighting. Disunity. Weakness. Despair, uncompromising positions, and ineffectiveness of the existing politicians and structures of 1930s Germany? YES.
And the most dangerous long term development for Germany was the government giving emergency powers to itself, long before Hitler took over. These powers allowed the parliament to bypass itself. Rule by decree.
Does Bercow realise, a hostile to the EU, Speaker, can just as easily bend the rules to deliver what a pro-EU parliament does not want?