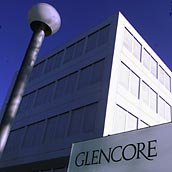 Glencore, a huge secretive partnership that controls much of the world's commodity trade, has had an embarrassing few weeks as it looks to do an IPO that has a sole reason of making its staff billionaires and millionaires. They don't say this, but the
IPO papers
put together don't have much of a story to tell as to why they need all this external investor money.
Of more interest, is the
sell-off in the commodity
markets of this week. They had been on a big bull run so these things always correct, but the sell -off is sharp.
One is reminded strongly of former top of the market deals, RBS buying ABN AMRO and Lastminute.com listing in the hype of the internet boom - and this is just UK deals. in the US you have AOL-Time Warner the daddy of all bad deals.
Glencore is yet to hit the market, but the joie de vie is draining fast. Glencore's float will be stage managed (by underselling to tracker funds, the initial price will be at the low end of the range etc) to make it go up on its first day - but when we look back in a year's time - will we see this as the moment of hubris?