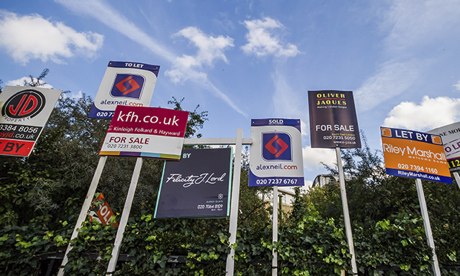 A week is a long time in politics. A week can also be a long time in the financial markets - as can a day. Just looked at the smashed share prices of the insurance companies now being investigated by the FCA - a load down 20% or more in the blink of an eye.
When sentiment turns, it can go very bad. My own investment in GKP is down to 90p today from heady heights of 450p just a couple of years ago. it's a big change and the facts have changed so along with that so have the prices.
Currently in London we have a massive house price bubble. Huge population growth, limited housing development and competition from the World's wealthy for a piece of 'London Gold' is driving prices up at an incredible rate. Great times to be a property developer or agent, less good for those wanting to buy a house or even rent at a decent price.
As well as the human factors, the Government has weighed in by restricting permitting for new developments and pushing Help to Buy. In addition there is the Funding for Lending Scheme and record low interest rates for a 6th year running. Liquidity is everywhere. Anyone can borrow and borrow a fortune - encouraged by the Government and the Banks that they own.
It is a witches' brew, the higher prices go, the bigger the crash will be. Last time many eminent commentators were warning about a crash in 2003/4 that did not happen until 2007. Then the global nature of the crash saved London as it became a safe haven for capital flight.
From a UK politics view at the moment this is benefiting the Government. The Government has engineered a nice boom which is helping, construction, banks and moving the liquidity created by QE into the real economy. After such a terrible financial crisis, this is in many ways a good thing.
Except that we are moving liquidity into a sector which is already far beyond its natural level. If it were a share, the London market is ASOS. ASOS is a frankly brilliant company which is hugely successful, but its share price went far beyond its value or that of its management to keep pace with. As such it has suffered big drops recently. At some point too another paradigm comes into play. There is an old market saying that when every market 'Bear' has become a 'Bull' then the market changes because there is no one left to sell - shares cannot go higher.
We are already seeing this with super top end London property, where prices and volumes are way down for over a year now. Most of the World's super rich who want a London pad already have one. I would not want to be one of these investors in Mayfair super-developments where they think average sale prices are going to be north of £20 million at £6,000 per square foot.
This effect will slowly trickle down the market in due course. The huge demand pressure is from the bottom of the market in the main so prices will always be cushioned and London property is unlikely to crash like a busted share. However, down it will come and the feel-good factor will wane and the effect on the economy will be real.
The top of the market is also here, maybe it will last for another 2 years, maybe 3. There is a chance though that sentiment turns more quickly and with it will go the Government's re-election strategy. So even though it is a terrible policy, don't expect to see the end of Help to Buy anytime soon.