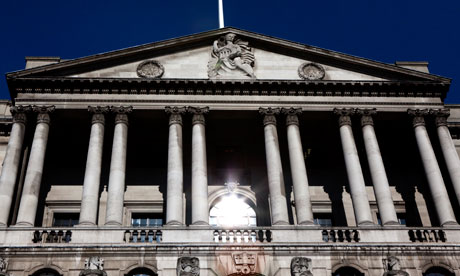 When the Bank of England is in such a terrible corner, mainly of its own making I may add, it is hard to know whether to laugh or cry.
For today, with ts Governor actively wringing his hands, the Bank announced that inflation will likely stay at over 3% for a year or two more. Not much we can do, says the Bank, the Pound is sinking and we can't raise rates as the economy won't be able to hack it.
What a disastrous situation to have ended in. Anyone who thinks we are nearly through the recession and the pain needs their head examining on this evidence. We are so anaemic in terms of GDP growth that even adding in nearly a year's worth of free GDP money in the form of QE has not revived much, if anything and in addition it has weakened the currency which is now sinking against the might QE powered Dollar and wasted Euro.
Any move to raise interest rates is considered insane, locking in further the zombie economy that we have now (and baking in the next financial scandal, when people got nuts as rates rise and they lose their houses in 2015-2017, this will be all the fault of rapacious bankers).
Is there another answer, it is hard to see now given the terrible position already created. Surely rates do start to need to rise a bit though, even if only 0.5% over the course of this year. Higher rates will mean better returns for investment which has been pathetic over the past few years. It will also spook bond buyers and push allocation of finance into more productive areas of the economy.
No chance of this though I fear, as the Bank accepts its defeat. The only hope is that Bank is always wrong, so we are in fact probably set for a nice period of deflation!