"We wants it, we needs it. Must have the precious. They stole it from us. Sneaky little
hobbitses
Tories. Wicked, tricksy, false!"
I return from a short break (I have really enjoyed this missing out on tons of election coverage as the parties try to have an election without any commitments at all!) to find Ed Milliband has turned into Gollum from the Lord of the Rings.
Gollum, in the books, is captivated by the Ring, the source of power. All is subsumed to its acquisition and though there is an inner battle, everything is sacrificed in the end for power.
In the past week, the true Milliband-Gollum has come to the fore. We all know he started this terrible path to power by ruining his own family by beating his more talented brother with the help of the union barons.
Fast forward to this week and he is truly desperate. Most of the Labour lines are about 'hidden' Tory plans to smash the NHS. Pure lies in all likelihood with no way of proving any of them. If anything the Tories are as cornered as everyone else by the mammoth NHS spending requirements.
But the lies pour forth with increasing desperation. Not content with just campaigning on a lie as the central theme of his campaign Milliband has gone futher.
To the depths of meeting with narcissist and anarchist Russell Brand - in search of unregistered younger voters to try to convince with the made-up message of the Labour Campaign.
Together with this of course, is is 'set in stone' pledges made last week.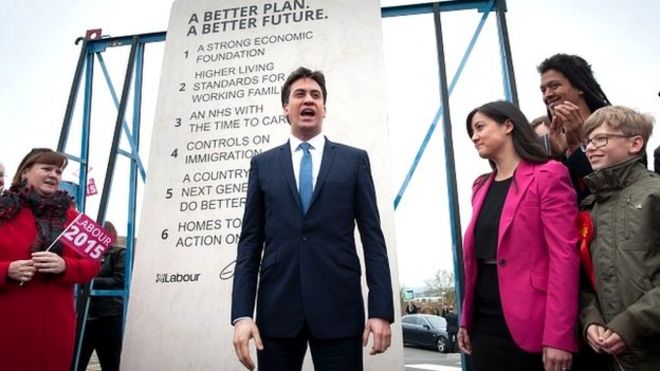 This stunt has to be the worst I have yet seen - factless statements written into stone. Carefully chosen to avoid any Nick Clegg type disasters where commitment might late come back to bite you.
The only thing all of the above tells me is that Ed Milliband is really, really desperate for power. Of course, having ruined his family he personally has the most to lose from failure. But Gollum he is, willing to sacrifice everything to his insatiable appetite for power.
If he does win, this all leads me to think he will quickly degenerate to Gordon Brown levels of idiocy and bad leadership, so consumed with his own 'journey' which he mistakenly thinks this that of the country too.